Somer Baburek, the founder of Hera Biotech, talks about how pitch competitions helped her raise a $2M seed round from VC funds and angel investors.
How do you start raising $1M and end up closing $2M, being a woman-led startup in an unpopular niche and without a network of angels and VCs? Amazing Somer Baburek from Hera Biotech not only did exactly that but also was kind enough to share her secrets with us.
Somer is building a diagnostic test for endometriosis, a disease that has the same prevalence as diabetes, is the leading cause of hysterectomy for women in their 30's and is the number one cause of infertility. Hera Biotech is the world's 1st non-surgical test for definitive diagnosis and staging of endometriosis.
Round details
Company name: Hera Biotech
Round size: $2,000,000
Stage: Seed
Date: September 2022
👉
Somer is now raising her Series A round to continue the clinical development and support the commercial launch. If you're a bio/health investor, don't miss out on the hot deal,
reach out to Somer on LinkedIn
.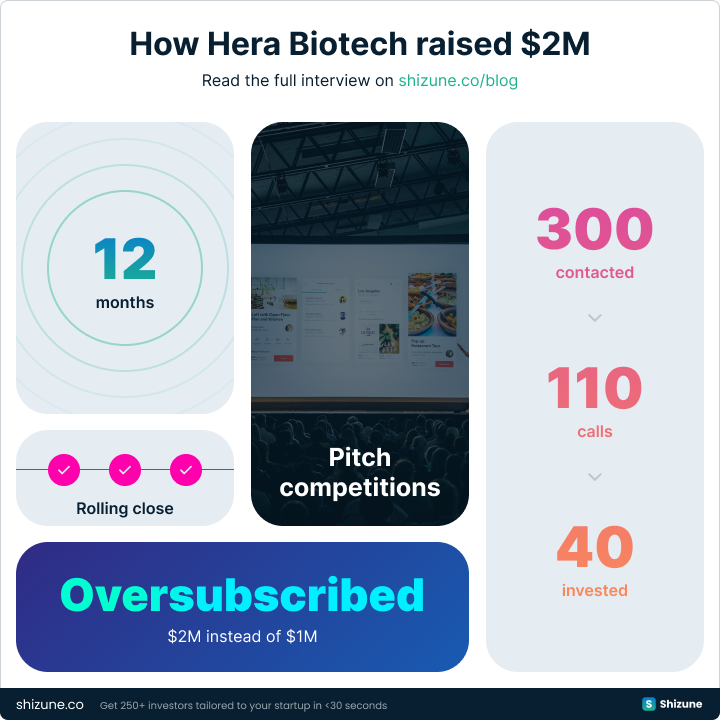 How long did it take you to raise the round?
It took us a little over a year to raise the oversubscribed round. I believe that this timeline was largely due to the fact that it took us a while to find the right audience for the round. This round was more appropriate for angel investors but I didn't have a network with this group.
We decided the best way to find them was to start participating in pitch competitions. Many of these competitions utilize online platforms like Gust, Proseeder, etc for application purposes, these platforms also house applications for a lot of organized angel groups who hold regular pitch events. Once we learned that, we went about applying for every available angel group who held pitch events to get in front of the appropriate audience. That process took about 4-6 months and once we were talking to the right people things went relatively quickly.
As a side note, we were originally looking to raise $1M but when we had several people commit at the end of the year that would oversubscribe our round, my board authorized me to oversubscribe by up to $2M and we were able to do that. We updated our deck regularly throughout the process and we did a rolling close, it was the only way we were able to stay afloat while we raised.
How many investors did you talk to?
I believe that we reached out to nearly 300 investors, both cold emails and warm intros. We probably had intro calls with around 110. We had 3 funds, 5 angel groups, 2 family offices, and 30 individual angels.
What tools did you use?
We used the platforms I mentioned in the answer to the first question for the majority of our outreach. We heavily relied on pitch competitions and LinkedIn to get the intros and contacts. We used Adobe Pro for document signatures, DropBox for our data room and I tracked our contacts/investments on an Excel spreadsheet.
What was the hardest thing in your fundraising?
I think when you aren't someone who has a network of angel investors it's always tough to get going, but that isn't unique to us. For us, we are a woman-led, women's health company and statistically we are at a significant disadvantage in terms of the amount of funding that goes to woman-led or women's health startups.
Additionally, at the time of our seed round, the indication that we are focused on, Endometriosis, was not something that many people are familiar with despite it's prevalence. We had to spend 20 minutes in each call just educating the investor about the problem and the size of it, which is hard to do when it's so unfamiliar to so many.
Fundraising advice/hacks for founders
Everybody has an opinion and we got "feedback" and "advice" from so many people who were not investing. My advice is take what feels right and leave the rest. If someone isn't investing, their feedback on your deck isn't as valuable as someone who is. Excuses like, you're too early or, I'm going to ask my___ to see if they've ever heard of this, are not helpful. Try to get specifics, if they can't give you specifics, there is something they didn't understand, try to adjust your language to be more simplistic if you see this happen frequently.
---
Support
Thanks for reading!  
Follow Somer on Linkedin and Twitter. If you want to learn more about Hera Biotech, check out their website.

If you'd enjoyed the story, I'd appreciate if join the email list, I share a new interview every week.
P.S: Somer contacted 300+ investors from her niche. Shizune can find the most active investors in your industry and stage in <30 seconds.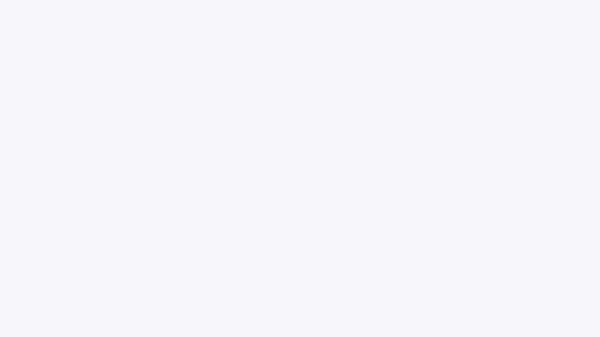 Get 250+ investors tailored to your startup. Automatically.
Angels and VC funds that invest in your industry, stage, and geography. Trusted by 3,000+ startups.
Find Investors – It's free!
P.S. 2: Have questions for Somer or me? Join the discussion in this Twitter thread:
Get 250+ investors tailored to your startup. Automatically.
Angels and VC funds that invest in your industry, stage, and geography. Trusted by 3,000+ startups.
Find Investors – It's free!